I have a surprise for you. I added a secret ingredient into these apple, kale and Gouda quesadillas. Bacon.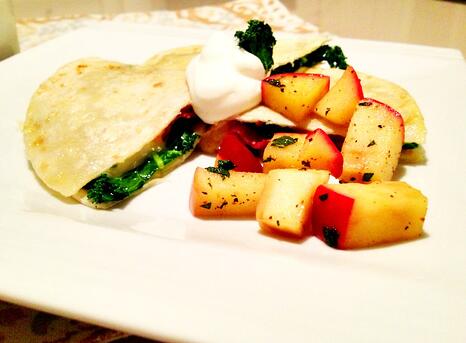 Well, this ingredient isn't that much of a secret. I cooked the bacon first and then sauteed the apples and kale in the bacon fat. So yes, that bacon flavor is there and it tastes heavenly.
Speaking of ingredients that should always be paired with melted cheese, apples are my absolute favorite. It all started in college when I went on a "healthy kick" and decided that by adding sliced apples to my grilled cheese would make them much healthier. I was obviously stretching that idea a little bit, but it did introduce me to the wonderful pairing of fruit and cheese.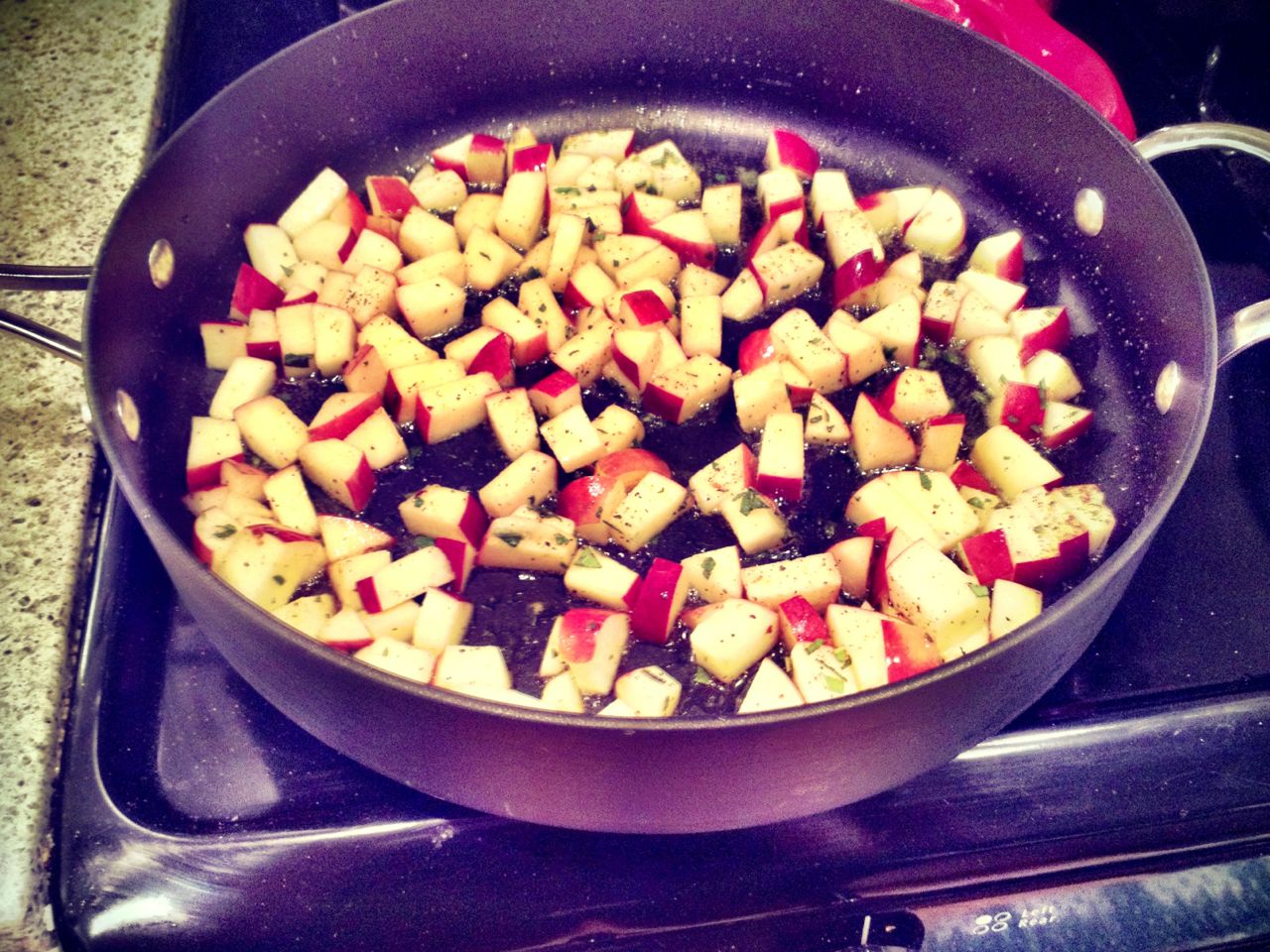 Quesadillas are comforting to me. They are easy to make, you can add virtually any ingredients you desire, and they provide an excuse for lots of toppings. Sour cream, guacamole, salsa and dips. Toppings add variety. For example by just changing your regular salsa to a fruit salsa, you just gave your go to quesadilla a brand new life!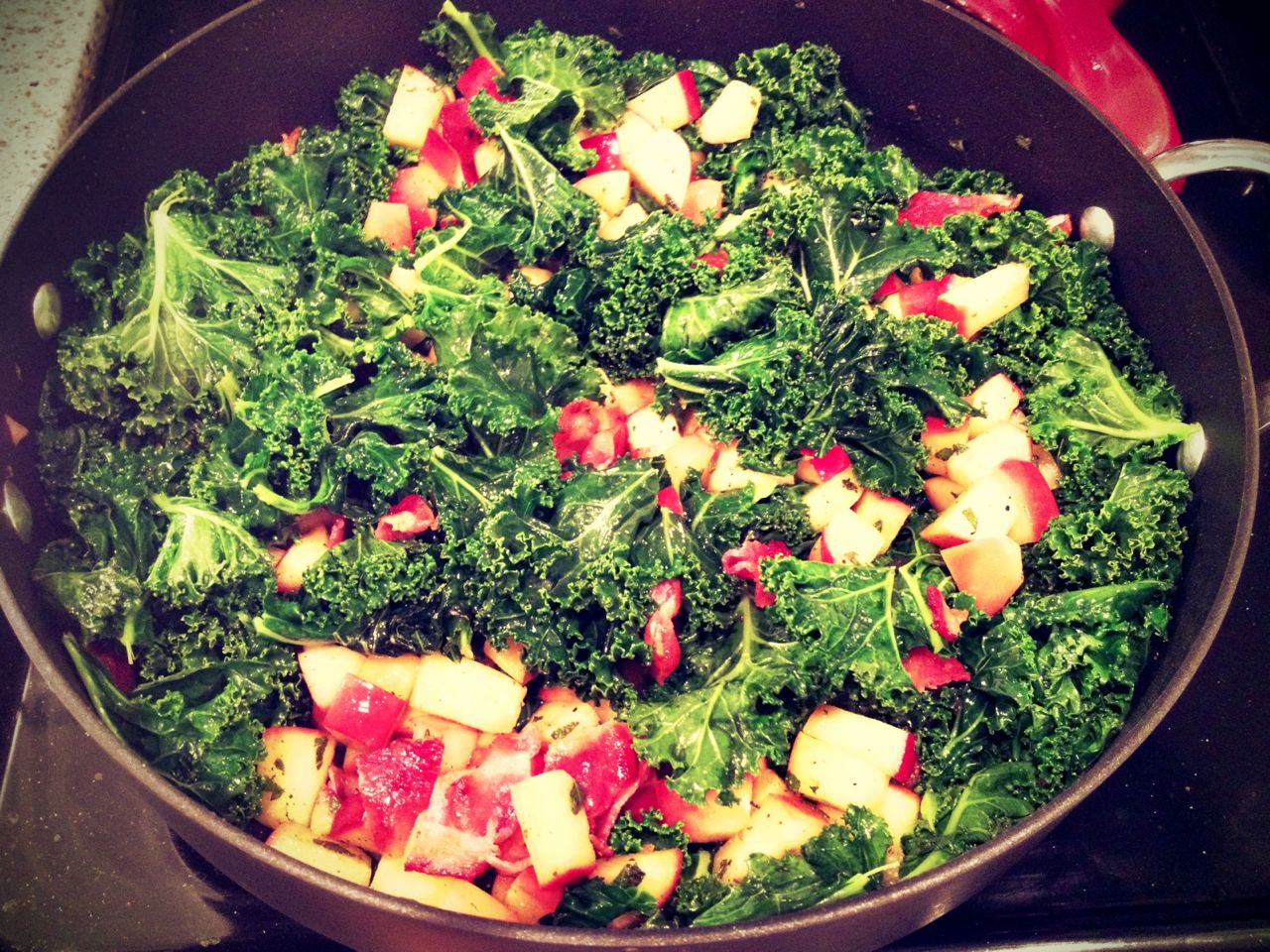 I love a flavorful quesadilla, which is why this one is cooked in bacon fat. If bacon is not a favorite ingredient of yours, feel free to saute the apples and kale in butter and olive oil. Either way these scrumptious quesadillas with homemade honey mustard dipping sauce make the perfect meal!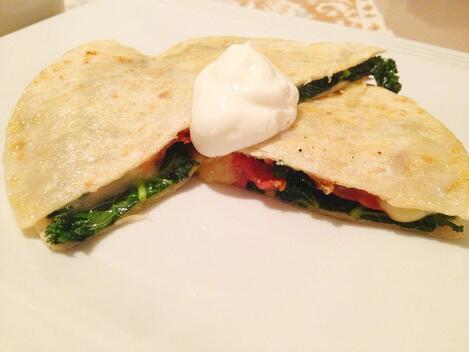 Apple Kale & Gouda Quesadillas
Slightly adapted from The Pioneer Woman
Ingredients:
5 Slices of thick cut bacon
2 Cubed apples
1/2 tsp Salt
Black pepper to taste
1/4 tsp Chili powder
1 tbsp Chopped fresh sage
1 Bunch kale, torn, stalks removed
8 Small flour tortillas
Butter for frying tortillas
2 Cups shredded Gouda cheese
Honey Mustard Dipping Sauce:
1/4 Cup Honey
1/4 Cup Dijon mustard
2 tbsp Sour cream
1 tbsp Apple cider vinegar
Salt and Pepper to taste
Whisk until smooth
Directions:
In large skillet cook the bacon slices over medium heat until slightly crisp and golden. About 4-5 minutes. Remove from pan and place on paper towels to absorb grease. Chop the bacon slices into chunks and set aside.
Add apples, salt and pepper, chili powder and sage to the bacon skillet. Cook for several minutes, rotating frequently with a spatula. Apples should be golden brown, soft but not falling apart. Remove from skillet and set aside.
Add the kale and cook over med-high heat, tossing to coat with bacon and apple flavor. After cooking for 3-4 minutes, add the apples, bacon and toss together. Remove from heat and set skillet aside.
In separate skillet, melt butter and lightly brown both sides of all the tortillas. Toasting the tortillas before you build the quesadillas will help with the cheese melting process.
Build toasted quesadillas by:
-Topping one tortilla with cheese
-Add the apple kale mixture on top
-Top with more cheese (cheesier the better!)
-Finish with another tortilla on top. (You will have 4 tortillas in the end)
Cook quesadillas on both sides until golden brown and cheese is melted.
Remove from skillet and cut into four sections. Serve with honey mustard sauce, sour cream, salsa or whatever toppings you prefer!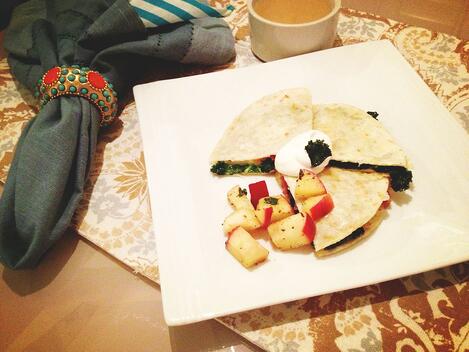 Melted Gouda, bacon and apples...Roll up your sleeves and dig in!