No two flavors go together better than peanut butter and chocolate, at least in my opinion. Peanut butter buckeyes, peanut butter blossoms, chocolate and peanut butter fudge...You make it, I'll try it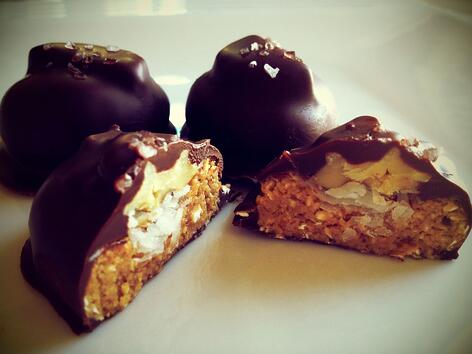 My only downfall to eating hand fulls of peanut butter buckeyes is the full, consumed too much sugar feeling. Maybe it's the creamy peanut butter mixing with the chocolate or maybe it's the fact I can never stop after just one buckeye. Willpower is not my strength...
BUT with these peanut butter balls, willpower is not required! A lovely blog by the name of Oh, Ladycakes has opened my eyes to the world of raw deserts. If raw deserts are out of your comfort zone, let me assure you that her lazy girl peanut butter cookies are nothing less than amazing.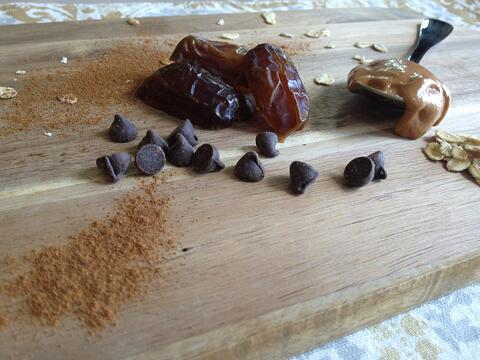 After making the lazy girl peanut butter cookies as a guilt free treat, I couldn't help but imagine how perfect the raw peanut butter cookies would work as chocolate covered peanut butter balls. Not just any, ordinary chocolate covered peanut butter ball though. I stuffed these walnuts, bananas and shredded coconut.
You can use whatever toppings you have handy in your pantry for these peanut butter balls. Pretzels, pecans, M&M's candies; be creative based on what you love to pair peanut butter with!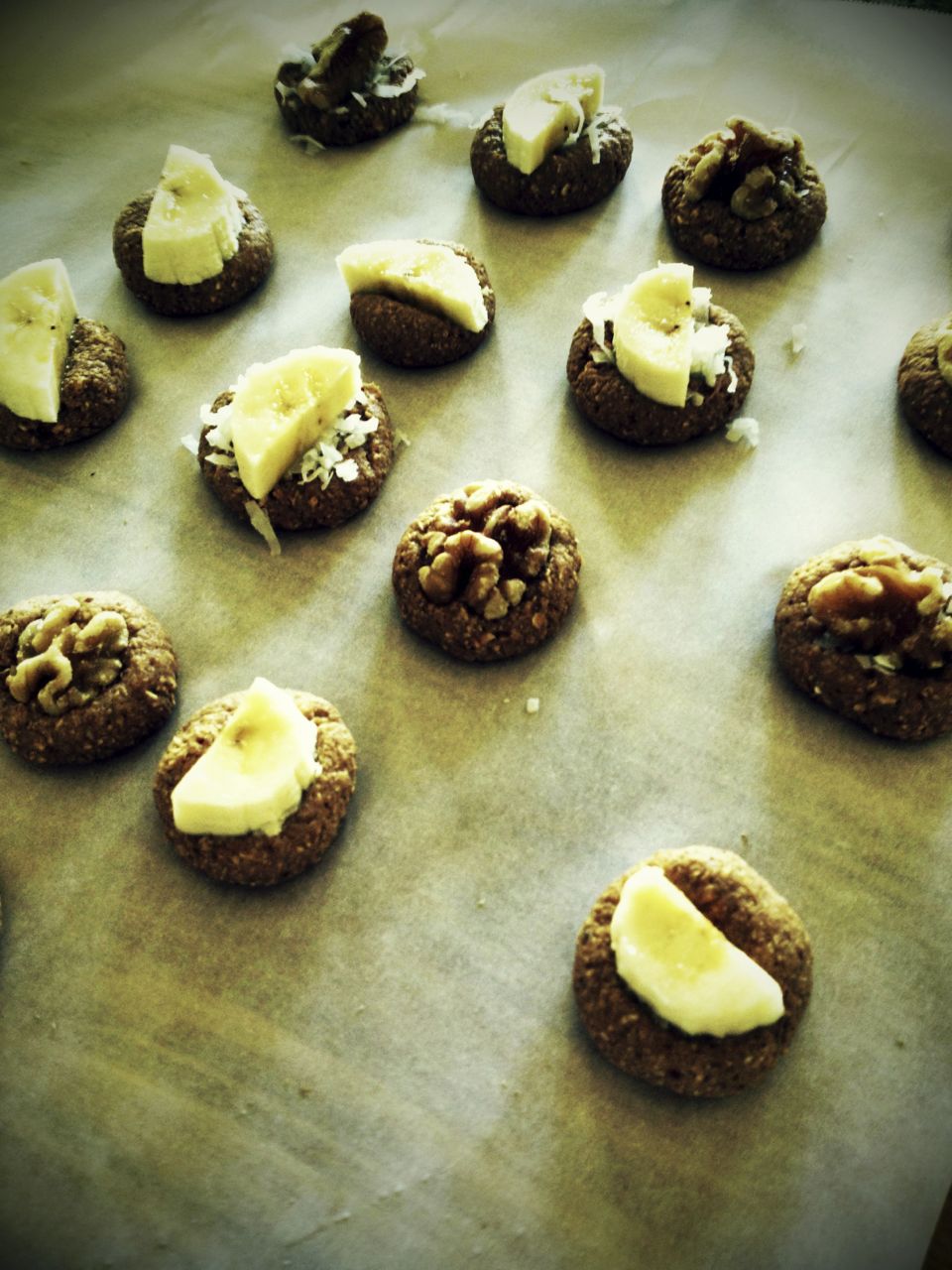 The three toppings that I experimented with were walnuts, bananas and shredded coconut. I have to say that although I thought the peanut butter banana combination would be my favorite, the coconut walnut duo stole my heart. Must have been the extra crunch from the walnut!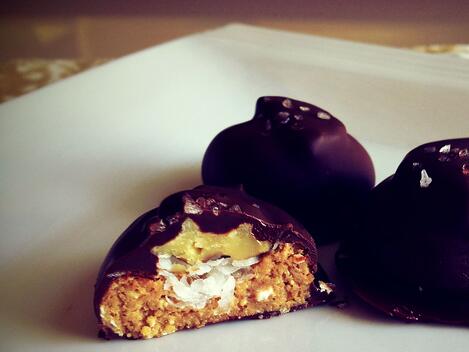 Chocolate Covered Coconut Walnut Stuffed Peanut Butter Balls
Adapted from Oh, Ladycakes
Ingredients:
2 c. Rolled oats
Pinch of fine sea salt
10 Medjool dates, pitted
1/2 c. Natural peanut butter (I used Better'n Peanut Butter)
1/2 Tsp Ground cinnamon
1/2 Tsp Freshly ground nutmeg
6 Tbsp Almond milk
Whole walnuts
1/2 Banana, quartered
2 Tbsp Unsweetened, shredded coconut
1/2 c. Chocolate chips
2 Tsp Coconut oil
Pinch of coarse sea salt
Directions:
In a food processor, blend oats, sea salt, cinnamon and nutmeg into a fine meal. Add the dates and peanut butter and blend for 30-45 seconds. Add the almond milk and pulse until combined.
Note* I found that by using Better'n Peanut Butter, the consistency was not thick enough, therefore I added another 1/2 cup of oats to thicken it. If you use a regular, natural peanut butter, the consistency should be thick enough and you may only need to use 2 cups of oats instead of 2.5 cups. If your consistency is too thick, you can add more almond milk.
Place dough in the fridge to chill while preparing the toppings. Cut 1/2 banana into 1 inch thick rounds. Then cut the rounds in half. Have your shredded coconut and walnuts on the side.
Using a small spoon, scoop the dough and roll into small, 1-2 inch round balls (depending on your preference, you can make them larger). Place the peanut butter balls onto a parchment paper lined surface. Once you have rolled out all the peanut butter balls, start assembling the toppings.
I made four different combinations: plain banana, plain walnut, walnut and coconut, banana and coconut. To make the plain banana and walnut peanut butter balls, simply press one walnut or one piece of banana on the peanut butter ball. Press the toppings down enough so they stick to the peanut butter ball. For the coconut toppings, take a pinch of shredded coconut and press onto the peanut butter ball. Then press either a walnut or a piece of banana on top of the coconut.
Once your toppings are assembled, place peanut butter balls into the freezer to set for 15 minutes.
Melt a 1/2 cup of chocolate chips with 2 teaspoons of coconut oil. Then dip the set peanut butter balls into the chocolate, completely covering them (I found it easier to place peanut butter ball on a fork and use a spoon to pour the chocolate over the ball. The fork also allows the excess chocolate to drip off easier). Let excess chocolate drip off and place chocolate covered peanut butter ball back on a parchment paper lined surface. Very lightly sprinkle each peanut butter ball with coarse sea salt. Once all of the peanut butter balls are covered with chocolate, place them back into the freezer until the chocolate is firm, at least 15 minutes.
Store in an air tight container and keep refrigerated.